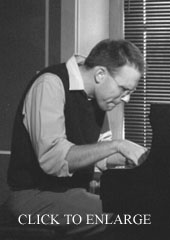 I love capturing the creative energy surrounding live jazz performance. These photos, mostly from the Press Room in Portsmouth, are all taken with ambient light.
Local artist, Bob Nilson is a frequent visitor to the Press Room, where he can often be seen sketching performers using both hands.
The PDF catalog features 112 images from a collection of several thousand that I've taken since 2002. The catalog is a little fuzzy because I had to compress it a lot to keep from making it so big that no one would want to download it.

Jim Howe has been keeping alive the long tradition established in the early 1980's by the late jazz pianist and Woody Herman alumnus, Tommy Gallant to provide live jazz performances every Sunday evening from 6-9PM upstairs at the Press Room, 77 Daniels St., Portsmouth, NH. If you live in the NH Seacoast area, please join us on Sunday nights and help support Jim's efforts and those of Press Room owner Jay Gardner to keep providing live jazz in a small club venue, with nationally and internationally famous soloists accompanied by the remaining members of Gallant's long time trio, bassist Jim Howe and drummer Les Harris Jr., along with pianist Ryan Parker.


In April of 2005, The Seacoast Jazz Society invited me to present a lecture titled "In the Moment - Capturing Live Jazz Performance" in which many of these photographs were shown.
Back in 2002, I sponsored the production of a CD compiled of recordings made of Tommy Gallant at the Press Room with his original trio and many famous musicians during the 1980's and 1990's. All proceeds from the sale of this CD go to the Tommy Gallant Memorial Scholarship fund for jazz students in the music department at the University of New Hampshire. For more information, click on the Tommy Gallant CD pointer below.